Later in the post: "The age divide is nearly as large for social media, but in the other direction [compared to TV news]: Those 18 to 29 are about four times as likely to often get news there as those 65 and older."
"Social media sites have surpassed print newspapers as a news source for Americans: One-in-five U.S. adults say they often get news via social media, slightly higher than the share who often do so from print newspapers (16%) for the first time since Pew Research Center began asking these questions. In 2017, the portion who got news via social media was about equal to the portion who got news from print newspapers.

Social media's small edge over print emerged after years of steady declines in newspaper circulation and modest increases in the portion of Americans who use social media, according to a Pew Research Center survey conducted earlier this year."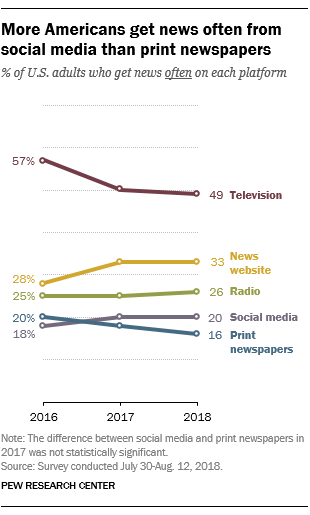 Social media outpaces print newspapers in the U.S. as a news source | Pew Research Center